Esfahan Rugs
The global fame of Persian rugs can be arguably pinpointed to the superb quality of hand-knotted wool rugs made in Isfahan, Persia (now Iran) during the renaissance period (1588-1629) of the Safavid empire. An oasis city on a plain near the foothills of the Zagros mountain, the city's elevation of some 5,000 feet (comparable to the US city of Denver) and its location near the outlet of a major river, enabled its rise as a crossroads for two major trade routes. Isfahan became the capital of the Safavids under Shah Abbas the Great (ruled 1588-1629) who re-routed the Silk Road through Isfahan and made it his royal city. The resulting international trade, prestige, and wealth inspired the Persian saying, "Isfahan is half the world".
Isfahan rug designs have been described as "visionary" depictions of exotic gardens and rare birds and animals that reflect the city's "most brilliant and luxurious" location that appears "like that of the richest Persian carpet" as Isfahan was described by a British visitor in 1874. During Shah Abbas the Great's reign silk became a royal commodity with a corresponding increase in silk carpet weaving. Isfahan rugs became a feature of Persian culture, a highly valued diplomatic gift, and a coveted export to the West. The artistic renaissance shifted rug designs from geometric "tilework" or row-on-row of squares with internal designs to highly artistic narratives of flora, fauna, the tree of life, vases, paradise gardens bisected with water channels, and intricately detailed and delicate central medallions. A popular motif was a large central medallion inspired by the internal design of the extraordinarily beautiful dome of Isfahan's early 17th century Sheikh Lotfollah mosque (the father-in-law of Shah Abbas the Great).
Hand-knotted with a wool weft on a silk or cotton warp, the high knot count of some 400 Persian knots per square inch allowed intricate designs. Some rugs were augmented with silk, but all-silk rugs are rare. The wool used was often "kurk" sheared from the necks and under the legs of lambs which yields a velvet-like "silky wool" that is plush and delicate yet durable. Pile was cut short to ensure designs were vivid. So famed are Isfahan rugs that the names of some master weavers are known and ascribed to museum-quality rugs.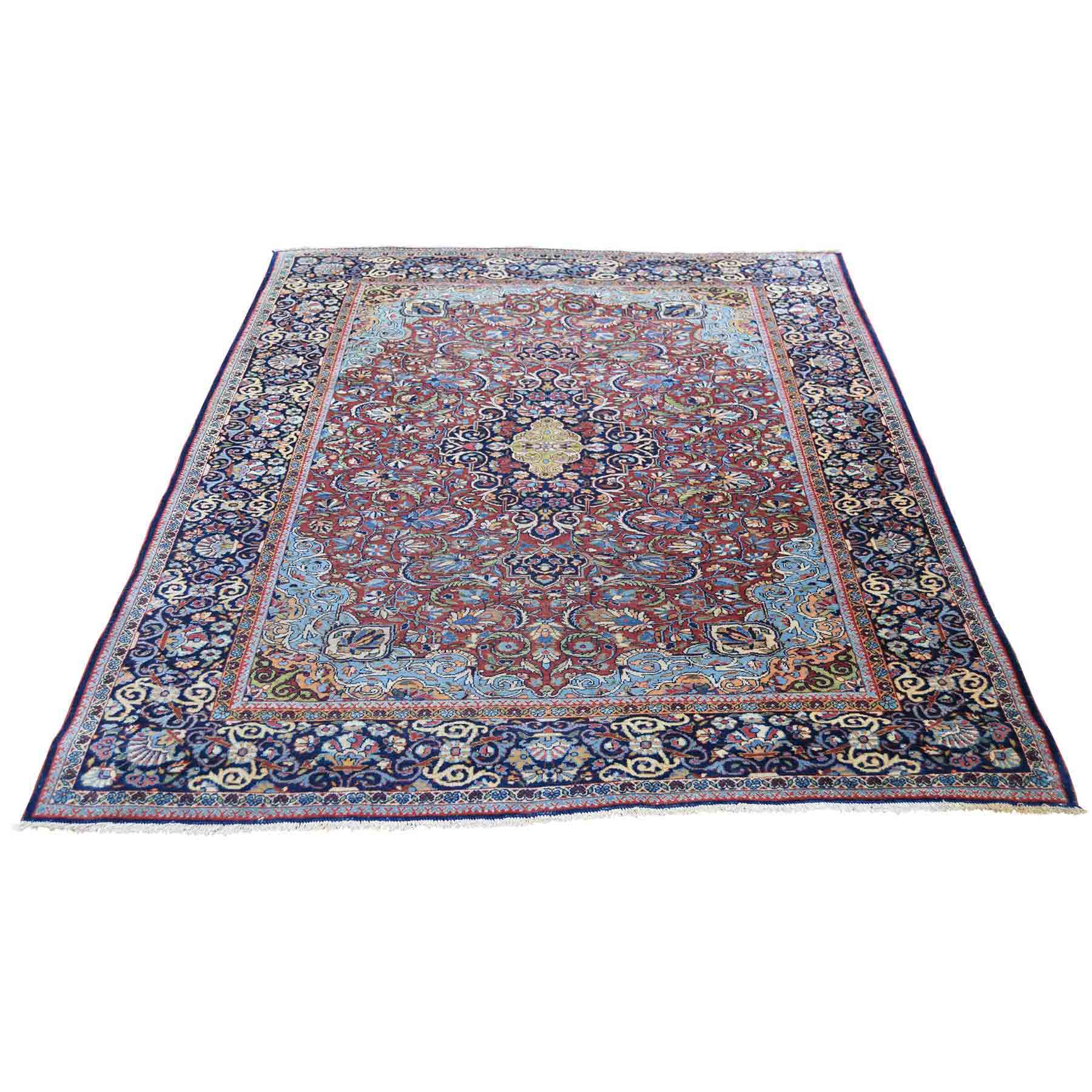 Unsubscribe!
Thank You!
Unsubscription Request Sent Successfully.
×