The idea of a cabin getaway in the mountains or at the beach or lake is popular with all ages and incomes. Popularity isn't just driven by nostalgia but is increasingly an outcome of our uncertain times where more and more of us want to hunker down in a small, safe and cozy space (provided it has a wifi connection of course).
Cabins represent the idea of a comforting place where both the interior and exterior have survived unchanged, which is why more of us are attracted to the idea of adopting "cabin style" interior design in our homes. But while the magazine Architectural Digest recently announced the revival of traditional decorating and antique "brown" furniture, we're not advocating you try to design your interior to look like grandma's woodsy cottage in Little Red Riding Hood.
Instead read on to discover the "ingredients" to design a cozy "cabin" style interior so it's a hip Wes Anderson-style getaway and not a Grandma Hood hideaway.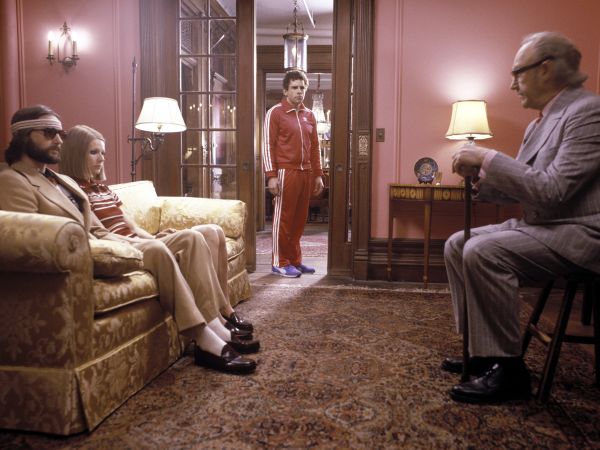 The key to creating cabin getaway style in the style of movie director Wes Anderson is eclecticism, intimate scale, and an enveloping feel. It's a seemingly mismatched and quirky, but actually very considered and thoughtful style. Mix traditional furniture like a tufted sofa (comfy sofas are a cabin mainstay) with new upholstery. Pair old vintage lamps with new lampshades. Choose unusual color combinations: pastels mixed with saturated color like the yellow bedroom in Hotel Chevalier or pale pink borrowed from The Grand Budapest Hotel. Add books, but if you don't own any you can always buy Wes Anderson bookshelf wallpaper (yes it does exist!). Add some fake fur: think Margot's coat in The Royal Tenenbaums but use it as upholstery or better still as a shaggy Moroccan rug. Add a few handmade and found objects. And the ultimate finishing touch? Layer in a vintage or vintage inspired Persian rug or two.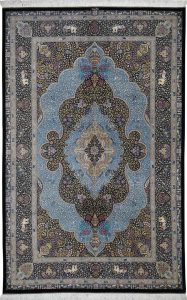 The wild popularity of Wes Anderson interior design style is borne out by the Instagram account @AccidentallyWesAnderson with close to a million followers. The style is a mix of cottage, cozy, grandma, traditional, quirky, quaint, but overall it's a fictional space where everything in it looks "normal" but together they create an otherworldly space. These are spaces that invite you to look at everyday objects in a new way. And while the spaces in Anderson movies often scale large like scenes in the The Grand Budapest Hotel, more often key scenes are in small and quirky spaces like Margot's bedroom and the fox's charming cozy cottage in his movie Fantastic Mr Fox. It's little wonder Wes Anderson style is popular in these uncertain times.
To optimise your Wes Anderson inspired cabin-style getaway use a Persian rug draped as a tablecloth or several on the floor. Why? Because if you pay attention to the set design of most of Anderson's movies you'll be rewarded with scenes where classic Persian rugs play a prominent part. But just as Goldilocks had to sit in all three bear chairs before she found the one that was "just right" for her, not any old Persian rug will do. You need a handmade Persian rug. Either new or vintage hand-knotted or handwoven.

Here are five of our favorite Wes Anderson-style rug choices from our huge inventory of hand-knotted and hand woven rugs. We doubt there's ever been a rug in a Wes Anderson movie that's machine-made, and likewise, we only stock handmade rugs, both new and vintage. We're more than happy to offer advice in person or via a free video consultation.
A rich red Super Kazak pure wool geometric hand-knotted Oriental rug balances pastel shades. Even in Anderson's "pastel" toned movie The Grand Budapest Hotel, light colors are grounded by rich red Oriental rugs
Our signed Persian Silk Qum hand-knotted Oriental rug features horse carriages and kings on a field color called "moonless night". The blues are the same shimmery water shades seen in Anderson's movie The Life Aquatic.
Margot's bedroom in The Royal Tenenbaum's is a rich cultural mix including African masks. Our vintage North West Persian hand-knotted Oriental tribal runner with its bold geometric pattern would look right at home in a Margot-inspired space
A black bordered rug with pastel tones will suit spaces that lean more towards Anderson's pastel looks. Our hand-knotted south west Peshawar Oriental rug with Navajo design is just the ticket
Fashion in Anderson movies includes traditional Argyle diamond patterns, so our shaggy Moroccan hand-knotted Berber wool rug with its bold, broken diamond pattern will create a subtle but strong reference point to Anderson style in your room.