Smaller living spaces have been gaining popularity in recent years—from tiny homes to small 600-square-foot apartments in New York City. However, home sales over $100 million also exploded in 2021, according to the Wall Street Journal.
Whether your home is big or small, no one should have to forfeit fashion. Luckily, there are a few ways you can make the most of your small or large space when it comes to area rugs.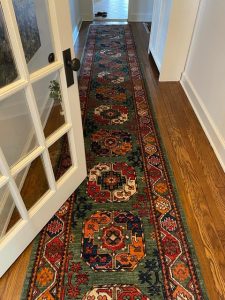 First, where is the rug going? Is it in an area where there's a lot of foot traffic? Will it be covered by furniture?
For you living room, measure the length and the width of the area where you want the rug and subtract 24 inches from both measurements to find the right size.
If you are looking for a rug for your dining room or kitchen, consider that for a rug under your dining table and chairs, you must measure the width and the length of the table. Your dining room rug should be about four feet longer and wider than your table, and you'll want about 18 to 24 inches on each side.
Finally, if you're considering a bedroom, first think about the size of the bed, and then make sure the rug is large enough so that when you get out of bed your feet land on the rug.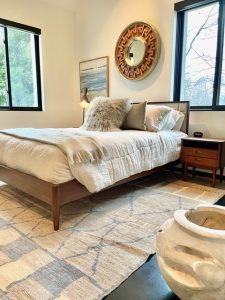 You probably don't want to put expensive wool or a delicate silk rug in a heavy foot traffic area like the entryway of your house, which is why material matters. Bamboo rugs, while not as soft underfoot as wool or silk, will last a long time in high-traffic areas, as will nylon and polypropylene rugs.
When it comes to a small space and you move on to thinking about color and design, understand that patterns can be overwhelming in small spaces, so you want to stick to light, solid and neutral colors. Lighter-colored rugs make rooms feel bigger, so aim to find a light, neutral color that accents the room. And if you have to have a design, the bigger the better.
You also want to consider the floor material, wallpaper, and other furniture in the room and make sure the rug matches everything.
For large spaces, you want to measure the same way, and you also want to think about materials in the same way. But things change when it comes to color and design in larger areas.
In a larger room, you want to use the rug to tie the look of the room together as it works in tandem with furniture, wall colors, and accessories. Select a rug that complements the two or three main colors in the room is a good way to think about it.
And just like with smaller spaces, consider the furniture upholstery when thinking about rug designs and don't mix clashing patterns.
One method for doing this is to match the secondary color in a patterned rug to your sofa and match the third rug color to your pillows, drapes, wall color or other accents in the room.
If your primary furniture is upholstered in an elaborate pattern or design, a solid-colored rug could work really well. Just make sure it complements your sofa color, and match it to the accent colors in the room.
However you decide to design your home, remember that the size of the space makes all the difference when it comes to rugs.