The cheerful pattern known as stripes is a favorite with interior designers. The pattern is simple – parallel straight-sided bands of alternating color with colors that range from highly contrasting shades to monochrome hues. Bands can be same-sized or alternate in width. Stripes may be simple, but there are thousands of ways to make the pattern unique, and there's no better way to express your love of stripes than with a striped rug.
In the US the popularity of stripes boomed when the pattern became linked with New England style and fresh and breezy beach retreats. When design supremo Ralph Lauren adopted stripes as one of his signature looks, the red, white, and blue "American stripes" aesthetic was exported throughout the world. While we love the stripes of the American flag, there's much more to discover about stripes. Stripe patterns come in a multitude of colors, textures, and band widths. Subtle weaving techniques like alternating textures in the bands of striped rugs create dimensionality that can alter the perceived depth and dimension of your room.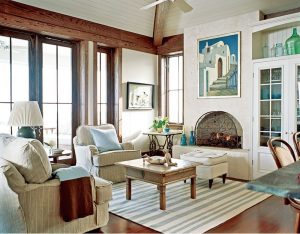 Despite an initial association of stripes with prisoners and eventually with the circus, stripe patterns eventually evolved beyond those categories to become a beloved staple of interior design. The attraction of stripe patterns is due to the pattern's essential ability to be a neutral, classic, and non-competing element in a room design. Stripes are cheerful and non-confrontational. What do we mean by "non-confrontational"? We mean that stripes have few preconceived affiliations with gender or geographic area making the pattern perfect in every room from children's bedrooms to a sophisticated library. Stripes can even be fun, directional "signage". Striped stair runners seem to say "breakfast this way!" and "bedtime this way!" depending whether you're at the top or bottom of the stairs.
Striped rugs will anchor any type of room design from traditional to contemporary, and allow "louder" and more busy patterns, like florals for example, to take center stage. There's no better way to show your love of stripes than with area rugs. Here we share five unique striped rugs that demonstrate the versatility of the pattern.
Navajo-inspired stripes Rug# 130615
Our Navajo-inspired southwestern style rug might not be the first thing that springs to mind when you think of stripes, but this rug is a classic example of how stripes not only appear in many cultures, but how diverse they can be. Our handmade wool rug features solid wide blue stripes rhythmically interspersed with green and red earth stripes of equal width that when combined create an equal width to the blue stripes. This attention to detail creates a lively but restful pattern.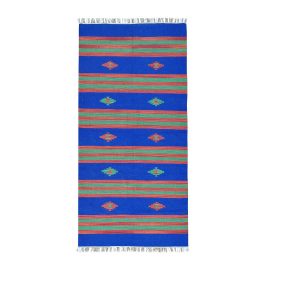 Camouflage Stripes Rug# 248860
Here's a striped rug we love for the subtle way it camouflages busy, geometric brocade-like patterns within each orange stripe while the alternating white stripes are a non-patterned weave. This pairing along with the varying widths of the burnt orange stripes creates a dynamic design, yet it is still restful on the eye and performs as a "neutral" element in a room scheme.
Stripes with attitude – living room zigzag rug
When is a stripe not a stripe? When it's a dynamic zigzag! The lively up-and-down zigzag pattern is a banded stripe, but one that's jazzed up by "snapping" the pattern into an up-and-down shape.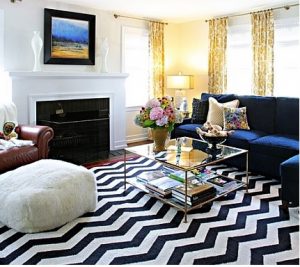 Stripes as Optical illusions
A chevron pattern is a series of mini offset stripes that create a pointed "arrow" design. Depending on the colors used and their arrangement, the pattern can appear "flat" or it can appear 3D – yet another example of how stripes rule supreme!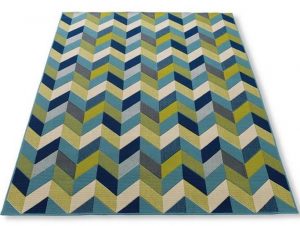 Stripes as piano keys
A variation on chevron stripes are short, staggered blocks of alternating colors that repeat throughout the pattern. They appear similar to the keys on a piano especially when the rug is black and white. Stripes are dynamic and usually directional, but when the pattern is interrupted as it is in "piano keys", the directional aspect is removed while more dynamism is created. Win-win!