Hard lines are out, and squishy, deep, and ultra comfortable furniture is in according to a recent design article describing interior design upholstery trends for fall 2019. If hard lines for upholstered furniture are out, what's in? Sofas, chairs, and ottomans upholstered in Kilims and flat weave rugs. "But wait!" you say, "Kilim upholstery isn't a new trend"! Well yes, while it's true that boldly patterned and brightly colored tribal Kilims used as upholstery is not exactly a new trend, read to the end of our blog to discover the exciting way it's being updated for 2019, and to discover a brief history of Kilim upholstery, and what to look for when choosing a Kilim to upholster your loved piece of furniture.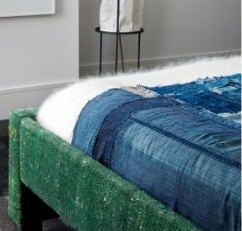 Brief History of Kilim Rug Upholstery
The Wall Street Journal's September 2017 article "A Sofa Upholstered with Carpet? Way Chicer Than It Sounds" discussed the newest revival of "the old-fashioned practice" minus the "fustiness" of traditional Oriental rugs. But long before the 2017 revival, the look was made popular by historic British bespoke furniture maker and royal warrant holder George Smith whose Kilim covered sofas are found in many an elegant country house. The Victorians in the 19th century loved the look of Oriental rugs and beyond layering them on floors and draping them over pianos, they used Oriental rugs and Kilims to upholster furniture using luxurious long fringe to trim and finish the edges.
What Are Kilim Rugs?
Kilims are carpets or rugs woven on a loom. They are almost always reversible and do not have a pile. Kilim weaving is ancient, and the craft probably migrated with Turkomen tribes to areas now renowned for kilims such as Turkey. Although often described as "Oriental rugs" Kilims are different from Oriental rugs and carpets in both weave and design.
Oriental pile rugs are made by knotting natural fibers onto the vertical cotton warps of a loom (imagine the warp as the strings of a guitar only larger and many more!). The knots are continually compressed with a "beating comb" to make a solid surface. After weaving is finished, the rugs are sheared for a raised pile or left unsheared for what is called a "loop pile".
Kilims on the other hand are interwoven. The weft and warp fibers are woven together (no knots!), often in the slitweave technique where horizontal openings are purposely left between two blocks of color.
Advantages of Kilim Upholstered Furniture
New, vintage or even pieces of antique Kilims can be used to upholster sofas, chairs, ottomans, and footstools. Vintage Kilims (defined generally as rugs older than twenty years but less than one hundred years old) are usually worn and often faded, but these "flaws" are seen as assets by interior designers because unlike the many upholstery fabrics, kilims look better with age. Plus the fact that vintage Kilims have already survived many years of use make them perfect for upholstered furniture in homes with pets and children.
Another advantage of Kilim upholstery is that it is never out of style. While its popularity may rise further with trends such as Maximalism, the look is immune to permanent exile from the style books of interior decorators which makes Kilim upholstery a good investment in your home.
Kilim Selection and Upholstery Techniques
The robust nature of most Kilim weaves means that upholstery is best left to professionals. But if you are choosing a Kilim to give to your chosen upholsterer for an existing piece of furniture, here are a few things to consider.
No matter what Kilim you choose it will be cut into pattern shapes that coordinate with the shape of the furniture being covered, so try and visualize where the pattern will fall on your furniture.
If you want the look but not the expense of covering a sofa, consider using a Kilim for a casual sling chair or an ottoman.
The rule of thumb is two Kilims for a sofa and one Kilim for a chair, but of course this depends on the size of the Kilim and the size of your furniture.
If you can't find identical Kilims, don't despair! The trend in upholstery for the last few years has been to combine compatible but different patterns. For example one pattern on the back and sides of a sofa and another for the front, seat, and arms. The look is charming when patterns are compatible.
Carefully consider the Kilim design and how it will transfer to the furniture. For example if the Kilim has a central rectangle design, perhaps the rectangle will fit the front back or the seat of the sofa?
Non-seamed Kilims are generally better for large areas, and seamed Kilims are good for small less visible areas like inside arm panels.
The Newest Version of Kilim Upholstery
The new trend in kilim upholstery is to upholster with less traditionally colored and patterned Kilims, and the interior designer who has created this new look and given it a 21st century vibe is San Francisco-based international interior designer Martin Young. A recent home he designed included his flatweave upholstered sofa, chairs and bed frame. Instead of going traditional, Young chose a vibrant, contemporary, new Turkish flatweave in a bold plaid design. Because Young chose inexpensive, new flatweaves, the look he created is one that can be easily adapted to achieve a beautiful mix of old and new in your home.